CHROMATHERAPY: Colors & Benefits
GREEN:Regenerates, assists as an antiseptic against micro-organisms.
YELLOW:Improves skin quality by purifying and re-activation.
BLUE:Regenerates muscle cells, skin, nerves and circulatory system.
RED:Benefits the circulation & nervous systems.
INDIGO:Purifies the circulatory system as a coagulant and analgesic.
VIOLET:Relaxes the nerves and lymphatic system.
WHITE:Relaxes nerves, provides energy for body cleanliness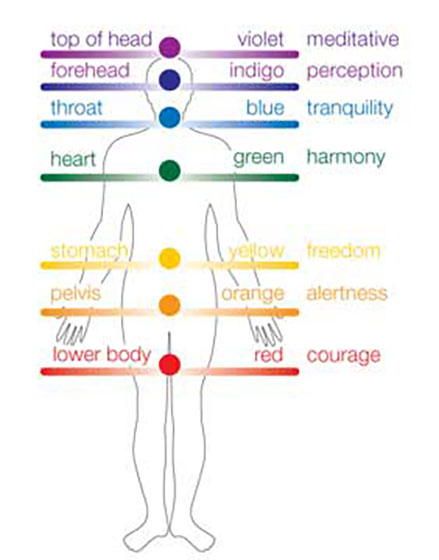 Add the Chromatherapy Lighting system to your Hydro Massage whirlpool and experience all the health benefits of light. Cycle through the lights or pause on one for intensive therapy. Light therapy is a powerful healing tool and with your Hydro Massage whirlpool the healing begins with the touch of a button.
The use of light and color to promote a specific emotional response dates back to the Egyptians who built healing temples of light over four thousand years ago. Now you can create your ideal environment with low energy consumption LED lighting designed specifically for the bath. Your Hydro Massage bath may be installed with either the Underwater Lighting Kit or the Chromatherapy Lighting System which allows you to cycle through the full spectrum of color.


How are you feeling today? Tickled pink, a little blue, or perhaps green with envy? When moods are so tied to color, it's no wonder chromatherapy, or color therapy, has become so popular in the home spa environment.
Chromatherapy or Color Therapy is the science that uses 4 to 7 colors of the spectrum to improve our mental and physical well being. These 7 colors have the ability to affect the vibrations of the body in the frequencies that affect health, welfare and harmony. Color therapy has been used in Asia for a thousand years.
We all need the light of the sun to live. We receive light from the sun, which is divided into 7 main groups of rays. Our physical bodies absorb these rays. When there is an imbalance of these colors in our personal energetic field (our aura), it reflects on our bodies as a mental or a physical illness or impairment.