Water Purity
If water purity is a priority in your bath, Hydro Clean™, Hydro Cleanse™ Cleaner and our EcoPure™ Bath & Body Solution are highly recommended for use in your Hydro Massage Whirlpool or Air bath.
The Hydroclean™ unit is one of the healthiest, safest and greenest products you will ever use in your whirlpool bath. It will help maintain a clean bathing experience. Hydrocleanse™ will help maintain a clean and fresh whirlpool or air bath by removing body oils, fragrances and soap residue. There is increased effectiveness when combined with the Hydroclean™ Sanitation System.
---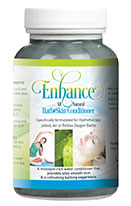 Enhance Bath and Skin Conditioner provides the following health benefits:
Re-hydrates and nourishes your body with natural vitamins and minerals.
Moisturizes your skin and leaves it silky smooth.
Helps eliminate Bio Residual contaminants on jets and internal plumbing system.
Works with Hydro Therapy to reduce stress, relieve pain, detoxify and stimulate both your digestive and immune systems.
Naturally purifies water for a healthier home bath experience.
Reduces cleaning and maintenance of the bath surface.
---
Better Construction for an Enjoyable Bathing Experience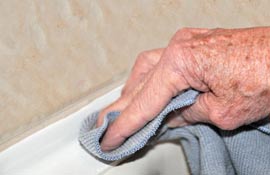 We build our Bathtubs with the end in mind … a clean, sanitary bathing experience for each person. In addition to our HydroClean Sanitation System, we have designed the EZ Clean Dual Stage Tile Flange to stand guard between your Bathtub and the wall. The flange protects the parts of your bath that you can't see by preventing bathwater from seeping between your bath and the wall.
---
Better Technology for Air Jets

You can experience the effectiveness of our water and air jets as you feel their impact in your bath.However the technology behind our jets is just as remarkable. A check valve behind the jet allows the air to be forced through the jet openings and prevents bathwater from draining back into the jet chamber. Our water jet design allows us to potentially prevent up to 40% less water retention in our plumbing.
---
Better Plumbing Design for a Cleaner Bath
Hydro Massage primarily uses a 'FDA Non-Toxic' recipe tubing. Unlike flexible pvc or porous pvc pipe, our plumbing harness system provides one of the best drain down systems available. We accomplish this by arching our lines 3 to 5 inches above the jets. Our air massage also uses smooth wall'non-toxic' recipe tubing. Combined with our air jet check valve system and Hydro Cleanse, you can be assured that your bath will be sanitary.